The Mornington Awning Experts
Undercover Blinds & Awnings are awnings experts. We specialise in everything related to outdoor and indoor shades. With a wide range of blinds, awnings, canopies, shades, and shutters on offer, our Mornington Awnings team can help you find the perfect outdoor blind solution for your Mornington home or business.
Since 2007, we have been dedicated to providing the highest quality products and services to our customers. Whether you need expert advice on what type of awning is right for your needs, an accurate measurement so that your awning fits perfectly, or a professional installation to ensure that your new awning looks great and functions flawlessly, you can trust Undercover to deliver.
Our commitment to outstanding customer service means that we always listen to you and recommend the awning that's best suited to your needs and budget, so that you can make the best choice. If you're looking for Mornington's best awnings, you've come to the right place. Welcome to Undercover Blinds & Shade Systems, the Mornington Awning specialists.
European designed and engineered, Turnils provide quality Folding Arm Awnings made from the finest materials and engineered by experts with impeccable skills and experience.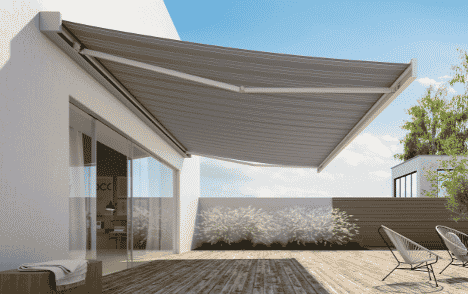 Weinor awnings feature exceptional German craftsmanship, durability, and award-winning design. Bring life to your outdoors with beautiful Weinor awnings bring your outdoor area to life.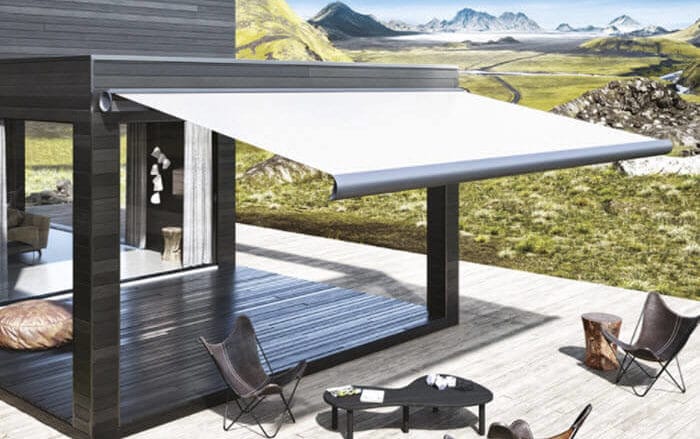 We custom measure, assemble and install Acmeda's stunning automated folding arm awnings Melbourne-wide. For a complete measure, FREE quote and professional installation, trust the experts!
BAT Awnings an Italian success story since 1983, BAT designs and manufactures innovative folding arm awning systems that are both stylish, hardwearing and innovative designs
TALK TO OUR TEAM TO GET STARTED TODAY
The Best Mornington Folding Arm Awnings
Folding arm awnings provide shade and protection from the elements in a wide variety of settings. Whether you have a large patio, balcony, or deck that needs covering, or simply want relief from the harsh summer sun during a family BBQ, these versatile shade systems can easily accommodate your needs.
Folding arm awnings come in multiple sizes and styles, and can be motorised and hooked up to smarthome systems with voice activation, app or remote control or they can be operated using a simple crank handle. Folding arm awnings are designed to withstand light rain and wind, and they can also include LED lighting options and even outdoor heaters.
So, if you're searching for an easy and effective way to cover a large space or protect your family from the sun this summer, look no further than a beautiful folding arm awning from the Mornington awning experts at Undercover!
All of our awnings, blinds and shades come with a 5-year warranty. Our Awnings team can help you choose the best system for your home.
All our materials not only look great, but can survive the harsh Australian sun.
Come to our showroom to see 36 working displays!
Retractable Roofs Mornington
Retractable roofs are a great addition to any Mornington home or business, an attractive alternative to more conventional awnings. Retractable roofs provide a versatile outdoor space that can be used all year round, regardless of the weather. They're beautiful and can provide cool in the summer and wartmth in the winter, all the while guarding your privacy and shielding you from the sun's harsh rays.
Undercover's Mornington Awnings team can advise you on the best option for your needs, ensuring that the retractable roof adds value to your property. Retractable roofs are ideal for those who wish to use their outdoor areas for entertaining, as they provide a usable space in all weather conditions. If you're looking to get the most out of your outdoor area, Undercover Blinds and Awnings are the Monrington awnings experts to call.
Excellent products, good communication and super friendly installation staff. I would definitely recommend this company.
Anthony and Dallas were delightfully easy to deal with and very efficient.
Thanks all.
Clare & Tony
Glass Roof Blinds Mornington
Glass roof blinds are a great solution for making the most of your indoor spaces, particularly in the Mornington summer months. These blinds offer protection from the sun's heat and harsh UV rays, allowing you to enjoy natural light and warmth without having to deal with extreme temperatures.
Whether you have a small atrium or a large glass roof, these custom-made blinds are designed to provide top-quality coverage and protection. With easy operation via motorised controls or wind sensors, you can enjoy peace of mind knowing that your indoor spaces will always be protected from the elements.
So, if you're looking for an effective way to make the most of your indoor spaces this summer, consider investing in high-quality glass roof blinds from Undercover, the Mornington Awning specialists.
Premium Mornington Awnings & Outdoor Blinds
At Undercover Blinds & Awnings, we are dedicated to providing our customers with the best possible Mornington awnings. Whether you are looking for simple drop-down awnings that can be controlled with the flick of a wrist or an advanced motorised awning that can be operated with the touch of a button, we have the perfect shade solution for you.
Enhance your living space and enjoy more time in the great outdoors with a premium motorised awnings from leading manufacturers such as Weinor, Turnils, BAT and Rollease Acmeda. Enjoy our unmatched selection and quality. We guarantee that you will love your new outdoor room! Contact us today to discuss your options.
Frequently Asked Questions On Our Mornington Awnings
We custom build and fit our outdoor blinds directly from our base of operations in Melbourne. Here are some answers to common questions from customers on our custom outdoor builds and installations of folding arm awnings Melbourne wide!
How much does a Folding Arm Awning cost?
All our Folding Arm Awnings are custom made. This means that there is no set price as the Folding Arm Awning does not come at a set size. As we have over 40 Folding Arm Awnings in our range, a price guide will place your Folding Arm Awnings between $2,500 and $8,000, depending on the size for a mid-range unit ranging from 2 metres to 7 metres wide.
How far can a Folding Arm Awning extend?
The smallest projection that is possible is 1,600mm at a 1,500mm width. Our Folding Arm Awning can extend as far as 5,100mm. The standard maximum projection that is achievable before hitting any engineering restriction on a residential structure is 4,000mm.
How much does it cost to motorise an awning?
From as little as $650 you can operate your awning with an entry-level motor. Better quality European motors are approximately $1,000 depending on the size (and weight) of the awning or retractable roof that needs to be opened or closed.
Popular add-ons such as motion and wind sensors, handheld or wall mounted remote controls are also available or we can simply link up to your existing home automation setup!