Melbourne Folding Arm Awnings
Folding arm awnings are beautiful overhead awnings that see the fabric extend and retract away from the wall via multiple extendable arms which drive the fabric through the front bar. They offer a brilliant overhead shade and a light weather solution, and they can be neatly tucked  away when they're not needed to encourage the sunlight on dull days. With over 45 folding arm awnings in our range, Undercover Blinds & Awnings has the prefect shade solution for you. Whether your design suits a sleek, enclosed look with a full cassette or the simpler, yet stunning design of a semi cassette or open style, we have many gorgeous, quality folding arm awnings for you to consider.
Benefit from our long industry experience. Let us design and install the best folding arm awnings Melbourne and surrounding suburbs.
Get Expert Advice Quickly
TALK TO OUR TEAM TO GET STARTED TODAY
We Manufacture and Install Folding Arm Awnings
There are many makes and models of folding arm awnings of varying qualities. There are lots of options that may be available on some models that others don't have. Dimensional abilities and colour choices are also a consideration as some folding arm awnings come in a standard range of colours (and this could differ from brand to brand.) Our extensive experience with a vast range of folding arm awning types, brands and models is the best thing to help steer you in the direction of model type that best suits your home or application.
Turnils Awnings Melbourne
European designed and engineered, Turnils provide quality Folding Arm Awnings made from the finest materials and engineered by experts with impeccable skills and experience. With the quality design, high performance, reliability and easy installation, you'll be hard pressed to find better value than Turnils Folding Arm Awnings. All over Melbourne, Turnils Folding Arm Awnings provide elegance and style to the facade of every home.
The Cabrera XL full cassette folding arm awning system sports the narrowest profile on the market. Designed for smaller spans and projection, the Cabrera XL is a "fully motorised" folding arm awning that can be mounted almost anywhere and offers exceptional durability. The heavy-duty folding arms can be operated using automatic smarthome sun and wind sensors or a remote control device.
The smallest of the Turnils blinds the new baby in the range, the Piccolo folding arm awning is our entry-level open-style model that is compact and offers great value for money and very versatile in terms of features. Ideally suited to smaller applications with maximum width up to 5 metres, the Piccolo awning features smaller componentry that gives it a narrower profile.
Our classic looking open-style folding arm awning and one of the most popular of Turnils range. A Swedish designed folding arm awning rated to winds up to 49 km/hr (6 on the Beaufort Scale), the Sirocco FA42 Classic comes in frame colours of white, silver and black. Optional top fix, roof and rafter bracket installations are also available as are hood, pitch control and premium fabrics.
FA 44 has the same strength and reliability as the FA42 but, as its serial number suggests, features greater focus on design with pressure diecast end brackets and designer mounting brackets for a slightly cleaner look.
The FA45 "Cross-Over" features cross-over arms to enable a larger projection on a narrow width, whilst the FA 46 awning has an integrated fabric support beam for better clearance under lower installations and greater tolerance to high winds.
Sirocco FA48 Semi-Cassette
The Turnils Sirocco semi-cassette folding arm awning (FA48) is a sleek and stylish awning designed with fabric protection and a streamlined finish in mind.
Rated for winds up to 49 km/hr (6 on the Beaufort Scale), this Turnils folding arm awning can project from 1.5m to 4m. It features variable pitch control and can be automated to retract thanks to enhanced safety features that detect changes in wind speed.
Viento Semi-Cassette FA58
Fully motorised as standard, the FA58 Viento Semi-Cassette folding arm awning features a smooth curved hood for a compact streamlined look which also provides greater protection for the awning's fabric and componentry.
Rated to winds up to 38 km/hr (5 on the Beaufort Scale), this beautiful awning projects up to 4m and can be up to 6m in width. Telescopic supports can be added as an additional accessory to provide greater stability when the awning is fully extended.
With folding arms awnings to suit every outdoor area, Weinor awnings feature exceptional German craftsmanship, durability, and award-winning design. Bring life to your outdoors with beautiful Weinor awnings Melbourne, the pinnacle of luxury in folding arm awnings.
With its slim, oval-shaped housing, the Cassita II folding arm awning is an ultra-stylish modern awning. Despite its ultra-slim design, the cassette is packed with technological innovations including an optional LED light bar that shines a pleasant warm white light to extend the hours of enjoyment outdoors.
The minimalist, contemporary look of this awning is ideal for penthouse decks and newer Melbourne designer townhouses and luxury homes.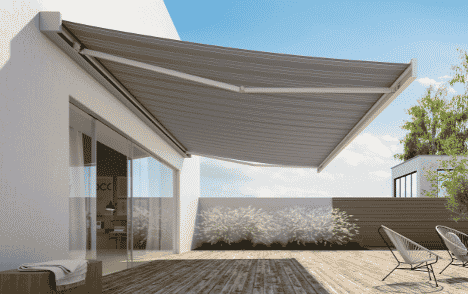 Weinor's award winning cubic design compliments most architectural styles. With cutting edge technology, a clean and simple design, high quality German manufacturing and componentry, the Weinor Kubata folding arm awning is in a class all by itself.
Available with or without LED lighting options, the Weinor Kubata has no visible fixings. It is simple to operate and extremely durable, another gem from this luxury awning manufacturer.
The sturdy Weinor awning with its support pipes can be used almost anywhere. As the decor on the front rail and the end caps suggest, the I+K+N 2000 awnings feature a more traditional design.
Weinor 2000 series folding arm awnings are designed especially for retail applications. With their unique flat front rail, these awnings disappear almost completely into the façade. With simple straight lines, they are a common installation above shopfronts.
The new Opal Design II cassette folding arm awning stands out for its timeless, classic design coupled with Weinor's ground-breaking technology. Designed to cover large shade areas, it blends in harmoniously with its surrounding architecture.
A wide range of optional extras make it easy to operate and wonderfully convenient, whilst also extending its lifespan.
The Weinor Semina folding arm awning combines a fresh, youthful design with proven technology and reliable quality. The full cassette protects the fabric and components from wear and tear for an exceptionally long service life.
With a variety of options to augment your awning including LED lighting, infrared heating and more, the Semina Life is a solid mid-range Weinor awning.
The Topas is a classic entry-level folding arm awning suitable for anyone wanting to save money without sacrificing quality. Its uncomplicated technology makes it stable and wind resistant.
When open, the awning is a standout for its extreme flexibility. With or without a waterproof top profile, it can be installed to fit into different configurations suitable for a range of Melbourne homes.
An Italian success story since 1983, BAT designs and manufactures innovative folding arm awning systems. Undercover Blinds assembles and installs to measure BAT Awnings Melbourne-wide. Versatile and stylish, BAT awnings are built from high quality lightweight materials, are minimalist in design and easy to operate.
Armony plus is a sleek folding arm awning at the higher end of the price scale. It is a high-quality unit with an expected life span of over 20 years. Constructed from extruded aluminium and sporting a galvanised roller tube, its standard colour choice is white, and it can be powder-coated to any colour in the Dulux colour spectrum.
The Armony Plus comes in projections of 1600mm up to 3600mm. It uses the same arms as the Australia system and features a maximum width of 7m. With its hood profile, it seals the unit against the mounting position for a tight seal against the elements. In short, the Armory Plus is well-suited to deal with Melbourne's ever-changing weather.
The versatile Australia Folding Arm Awning is constructed around a galvanised square bar with a streamlined heavy duty aluminium front rail. The awnings come in projections of 1600mm to 3600mm, and by way of a special joining features, they can almost span any width. Its standard framework colours are white, ivory, and grey; however, this unit can also be powder-coated to any colour in the Dulux colour spectrum.
Its mounting positions are almost endless with a wide variety of fixing brackets. We custom-build mountings to suit individual structures and apply a custom folded Colourbond steel cover as a sleek pelmet option to protect the unit when retracted.
The latest release from BAT Awnings Australia is the BAT 20/20 Semi Cassette folding arm awning. Built from the baseline of a long time-proven design that highlights the reliability of the 20/20 open style, this folding arm awning's refined design offers a new level of sophistication to the ever-reliable BAT awning model.
With its broad linear front rail, this folding arm awning is turning heads, its elegant and lightweight extruded aluminium pelmet, large 4m projection with pitch control, is an affordable yet robust alternative to our extensive range of folding arm awnings. Visit us in store for expert advice or call us for an obligation-free quote and measure.
We custom measure, assemble and install Acmeda's stunning automated folding arm awnings Melbourne-wide. For a complete measure, FREE quote and professional installation, trust the experts at Undercover Blinds with your Acmeda folding arm awnings.
The Kumo folding arm awning by Rollease Acmeda features a round fully enclosed cassette with few components. It's a beautiful, robust awning ideally suited to Melbourne's oft-changing weather conditions.
Manual or motorised system
Class 2 wind resistance (38 km/h) as per EN 13561 (550 cm x 315 cm)
Can achieve up to 6m widths & 3m projection
Die cast aluminium brackets and supports
Stainless steel fixings
No visible screws
Colour-matched components
Enclosed cassette protects blind when not in use
Offering between 5 to 85 degree inclination
Patented design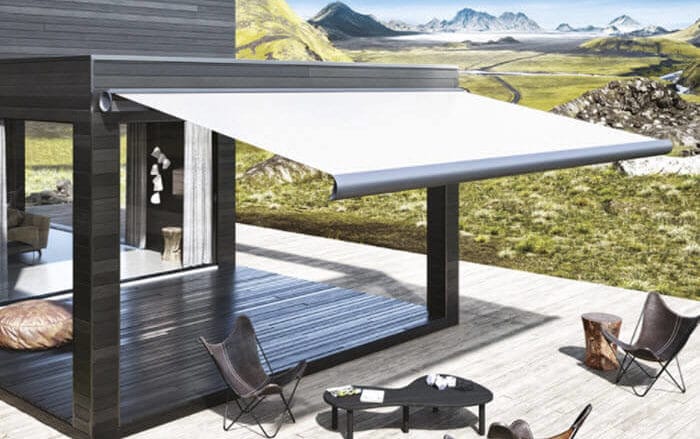 Designed by world-renowned, Italian industrial designer Mario Mazzer, the Feng is Rollease Acmeda's new flagship folding arm awning. With integrated LED lighting and rounded cassette design, it's a stunner.
Motorised, retractable arm awning
Class 2 wind resistance (38 km/h) as per EN 13561 (600 x 365 cm)
Completely enclosed cassette
Wall and roof installable
Ranges between 3° and 45° (35°LEDARM)
80 mm roller tube
Available with integrated LED arms & cassette
Dynamic dimmable lighting
Certified stainless-steel screws and pins
Patented & seamless design
Rollease Acmeda's Klip traditional style awning features a classic vertical design ideally suited to open style wall applications, offering up to 4m projections. An excellent value awning for Melbourne families.
Manually operated or motorised
Wall or ceiling installation
Maximum sizes of a single section: 700 x 365 cm
Inclination ranges between 5°and 65°
Continuous micrometric regulation of inclination
Class 2 wind resistance (38 km/h) as per EN 13561 (600 cm x 315 cm)
Klip POD offers semi cassette fabric protection
Certified Italian stainless steel screws and pins
Arm HOME with DAT System
415 cm projection (with XL & Urban arm support)
Our Retractable Awning Guarantee!
All of our awnings, blinds and shades come with a 5-year warranty. Our expert team can help you choose the best system for your home.
All our materials not only look great, but can survive the harsh Australian sun.
Come to our showroom to see 36 working displays!
From my initial phone call to Sarah, Tony coming out to quote and discuss my needs, James the Electrician and Chris and Dallas installing my fabulous new blind, I can't recommend this product and their helpful, knowledgeable staff highly enough. Nothing is too much trouble and a great price to top it off. I will definitely be using them again, don't bother looking elsewhere.
Thank you Undercover Blinds – great work !
Frequently Asked Questions on our Folding Arm Awnings
We custom build and fit our outdoor blinds directly from our base of operations in Melbourne. Here are some answers to common questions from customers on our custom outdoor builds and installations of folding arm awnings Melbourne wide!.
How much does a Folding Arm Awning cost?
All our Folding Arm Awnings are custom made. This means that there is no set price as the Folding Arm Awning does not come at a set size. As we have over 40 Folding Arm Awnings in our range, a price guide will place your Folding Arm Awnings between $2,500 and $8,000, depending on the size for a mid-range unit ranging from 2 metres to 7 metres wide.

How much does it cost to motorise a Folding Arm Awning?
Purchasing a folding arm awning is a big value add to your property. From as little as $650 you can operate your external folding arm awning with an entry level motor, better quality European motors are approximately $1,000 depending on size of your awning. With popular add-ons such as motion and wind sensors, hand held or wall mount remote controls, knowing you can operate your blind with a click of a button. You have even add the blind to your existing home automation setup!
How far can a Folding Arm Awning extend?
As each Folding Arm Awning is custom made to measure, you can mostly choose the projection (extension) that you are after. The smallest projection that is possible is 1,600mm at a 1,500mm width. Our Folding Arm Awning can extend as far as 5,100mm. At those dimensions, those awnings are of a commercial grade and are suitable for sturdy steel structures. The standard maximum projection that is achievable before hitting any engineering restriction on a residential structure is 4,000mm.
How long do Retractable Awnings last?
We will not sell Folding Arm Awnings that have to be replaced next year! We sell quality built European-designed awnings projected to last 30+ years. Life expectations for fabric is between 10 – 15 years until a replacement is required.
Can I leave my awning out in the rain?
Rule of thumb, if you do not want to get wet, the same applies to your Folding Arm Awning! Folding Arm Awnings are designed to be shade solutions. They'll be able to handle a light drizzle of rain, but water should not pool on the fabric. The awnings are a shade solution not a weatherproofing solution. Check out our Retractable Roof System page for waterproof shade solutions.
What's the difference between Full Cassette, Semi Cassette and Open Style Awnings?
Full Cassette Awnings
Full Cassette simply means encapsulated. Folding arms have mechanical components which make them move. Alloy castings and arm brackets connected to arms which project out to offer the shaded space underneath. These mechanics are always visible when extended but it some cases when the awning is retracted it's less appealing to see those mechanics. Full Cassette awnings when retracted hide or encapsulate the working parts to offer a more aesthetically pleasing and slimline finished result.
Semi Cassette Awnings
Semi Cassettes are just that, semi encapsulated. Generally, Semi Cassette awnings have an extruded aluminium hood or pelmet and a broadly shaped front rail. Sometimes these front rails can wrap themselves significantly under the mechanical components of the awning and offer almost a Full Cassette look. Semi Cassettes are visually appealing and are a very modern looking awning still applicable for design-sensitive areas.
Open Style Awnings
Open Style Folding Arm Awnings are a more traditional awning look. On older homes the Open Style can be quite beneficial. They have an exposed fabric valance that can be cut straight or can come in a scalloped pattern to help them stand out. Open Style awning can also suit the ultra-modern home with modern colours and sleek trims.