The latest addition in the stylish Weinor Folding Arm Awnings collection is now available for purchase. This premium German-engineered shading solution offers clean lines and a sleek architectural finish that can integrate impeccably with any Melbourne home's décor while providing complete protection against harsh weather conditions when not being used!
And with Undercover Blinds, you're in good hands. We are expert custom builders and installers of Weinor folding arm awnings throughout Melbourne and on the Mornington Peninsula. We offer the latest Weinor folding arm awnings, an extensive selection of fabrics and frame colours to seamlessly blend with your residential décor or commercial building façade.
Our Weinor awnings range is complemented with a bevy of automation and customised lifestyle options like LED lights for night-time entertainment on the terrace and wonderful heating options for optimal comfort levels when the seasons change!
With its slim, oval-shaped housing, the Cassita II folding arm awning is an ultra-stylish modern awning. Despite its ultra-slim design, the cassette is packed with technological innovations including an optional LED light bar that shines a pleasant warm white light to extend the hours of enjoyment outdoors.
The minimalist, contemporary look of this awning is ideal for penthouse decks and newer Melbourne designer townhouses and luxury homes.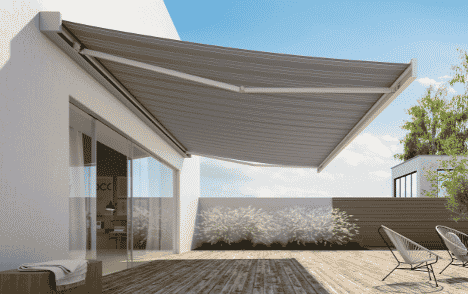 Weinor's award winning cubic design compliments most architectural styles. With cutting edge technology, a clean and simple design, high quality German manufacturing and componentry, the Weinor Kubata folding arm awning is in a class all by itself.
Available with or without LED lighting options, the Weinor Kubata has no visible fixings. It is simple to operate and extremely durable, another gem from this luxury awning manufacturer.
The sturdy Weinor awning with its support pipes can be used almost anywhere. As the decor on the front rail and the end caps suggest, the I+K+N 2000 awnings feature a more traditional design.
Weinor 2000 series folding arm awnings are designed especially for retail applications. With their unique flat front rail, these awnings disappear almost completely into the façade. With simple straight lines, they are a common installation above shopfronts.
The new Opal Design II cassette folding arm awning stands out for its timeless, classic design coupled with Weinor's ground-breaking technology. Designed to cover large shade areas, it blends in harmoniously with its surrounding architecture.
A wide range of optional extras make it easy to operate and wonderfully convenient, whilst also extending its lifespan.
The Weinor Semina folding arm awning combines a fresh, youthful design with proven technology and reliable quality. The full cassette protects the fabric and components from wear and tear for an exceptionally long service life.
With a variety of options to augment your awning including LED lighting, infrared heating and more, the Semina Life is a solid mid-range Weinor awning.
The Topas is a classic entry-level folding arm awning suitable for anyone wanting to save money without sacrificing quality. Its uncomplicated technology makes it stable and wind resistant.
When open, the awning is a standout for its extreme flexibility. With or without a waterproof top profile, it can be installed to fit into different configurations suitable for a range of Melbourne homes.
All of our awnings, blinds and shades come with a 5-year warranty. Our Awnings team can help you choose the best system for your home.
All our materials not only look great, but can survive the harsh Australian sun.
Come to our showroom to see 36 working displays!
From my initial phone call to Sarah, Tony coming out to quote and discuss my needs, James the Electrician and Chris and Dallas installing my fabulous new blind, I can't recommend this product and their helpful, knowledgeable staff highly enough. Nothing is too much trouble and a great price to top it off. I will definitely be using them again, don't bother looking elsewhere.
Thank you Undercover Blinds – great work !